26.08.2022
Open Day Announced – Saturday 15th October 2022 – 10am to 4pm
Come and try INDOOR BOWLING at our friendly club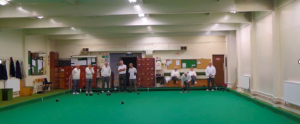 Why not come along on our Open Day and give it a go ? All you need is flat bottom shoes and we provide the bowls for you to try. Simply phone 01425 619598  to book your taster session when Colin and Trish our qualified coaches will be pleased to show you how.
You are also welcome if you would just like to come along and watch. You can find out more about bowling, meet some of our members and have a chat over a tea or coffee.
If you decide to join you can then enjoy a little light exercise and meet new friends this Winter with a 6 weeks trial membership for just £25.
For an application form and to find out more about the Club visit www.newmiltonibc.uk
New Milton Indoor Bowling Club   Whitefield Road   New Milton
Tel 01425 622572     ……………….    or email info@newmiltonibc.uk
19.10.2021
"What a great day we had"
"Didn't we do well"
These are comments on Saturdays Open Day, we may have run out of applications forms (we printed more) but we didn't run out of enthusiasm!
We had 34 people sign in which is a new record for the club and fantastic to see.
Our volunteers were magnificent and busy all day, our Coaches Colin and Trish aided by Jo Craggs were non stop all day.
18.02.2020
NEW MILTON BOWLING CLUBS
With the Indoor season drawing to a close we congratulate Bob and Beryl Shepperdley and Richard Silcock and Jean Lees for reaching the finals of the mixed pairs competition.
Our finals weekend this year will be March 28 and 29 and we are sure our finalists will provide some exciting matches.
This year the  Indoor Club will remain open for limited sessions throughout the Summer for those who prefer to bowl on the faster indoor rinks.
The Outdoor Club opens again at Easter with OPEN DAYS scheduled for Saturday 18 and Sunday 26 April and Sunday 24 May. If you have never bowled before do come along and give it a go. Our experienced coaches will be on hand to get you started, you just need flat bottom shoes and we provide the bowls for you to try.
You are also welcome to chat to Members of both Clubs at the Tesco store in Caird Avenue New Milton on Thursday 2 April, we look forward to meeting you there.